BLOG /
Medical Alert Systems
A Healthy Senior is a Happy Senior
By Paul Gamber |
5397
Views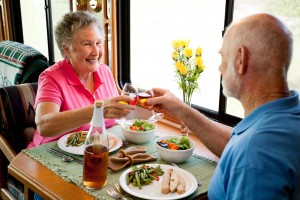 The healthy habits we develop early on in life tend to carry over into our senior years – healthy young people are more likely to become healthy seniors. But being an older adult comes with its own unique physical and mental health challenges. Seniors who develop healthy habits are likely to live longer, happier, and more independent lives.
One way that a senior can take responsibility for health and safety is by researching senior alert systems, reading reviews, and selecting a system that best suits his or her lifestyle. Senior alert systems can provide both the senior and their loved ones with the peace of mind that comes with knowing that help is always just the press of a button away.
Healthy Habits for Seniors
A struggle that many seniors face is trying to maintain a degree of independence while facing difficulties with their physical and emotional health. Seniors are prone to memory impairment, deterioration of vision, hearing and balance issues, and falls. These tips can help seniors stay happy and healthy for years to come:
Eat a healthy, balanced diet that is consistent with any medical requirements you may have (diabetes, high cholesterol, etc.)
Keep your body and mind healthy by engaging in regular exercise, from walks to more formal exercise programs.
Play games, read books, and solve puzzles to keep your mind sharp.
Maintain social connections – regular social contact helps keep your mind active, and has a positive impact on mood and overall happiness.
Be prepared for an emergency.
How Senior Alert Systems Can Keep You Healthy and Safe
The health benefits of regular exercise, community involvement, and maintaining a degree of independence are well-documented, so what keeps seniors from engaging in these activities? For many seniors, a fear of falling, ongoing health issues, or any other emergency keeps them from leaving their homes to explore and engage with their communities. Senior alert systems, which are typically wearable devices on either a pendant or bracelet, bridge the gap by ensuring immediate contact with the monitoring team who will alert emergency services, if needed, with a simple press of a button.