BLOG /
Medical Alert Systems
Best Exercise Programs for Senior Health
By Paul Gamber |
11452
Views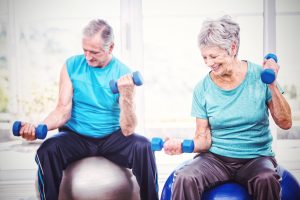 The many benefits of exercise for older people are well-established and widely known. Regular physical activity improves circulation, promotes healing, elevates mood, and reduces the risk of several serious health conditions.
If you are looking for a senior exercise program, bear in mind that the best exercise at any age is the kind you enjoy. If you are dreading your workout, it is much less likely to get done on a regular basis.
Older adults need exercise programs that help them maintain muscle mass, build strength, increase mobility, and improve stability and balance. If you have a health condition, check with your doctor before beginning any exercise program. The following are some of the best forms of exercise for older adults.
Walking
Walking is an excellent, free, low-impact workout that can greatly benefit overall health. Even when you can't find the time or energy for a structured workout, it is easy to slip on your athletic shoes, step out the door, and put one foot in front of the other. Walking outdoors has been shown to have mental and emotional as well as physical health benefits for seniors and people of all ages.
Swimming
Often called the world's best exercise, swimming has distinct advantages over exercise on land. It strengthens muscles and increases cardiovascular fitness with minimal stress on the bones and joints. This is an important benefit for older people with arthritis or osteoporosis. Swim outdoors when the weather is nice for the additional health benefits of spending time in nature.
Yoga
Yoga is low-impact, weight-bearing exercise that builds muscle strength, core stability, aerobic fitness, balance, mobility, and flexibility. If you are a yoga beginner, look for a yoga class designed especially for older adults.
Pilates
Another low-impact strength training program, Pilates focuses on core strength and stability. This makes it an ideal exercise program for seniors. Many gyms offer beginning Pilates classes.
Bodyweight Training
Many older adults experience severe muscle loss and age-related abdominal fat gain. Strength training is far more efficient than cardiovascular exercise for addressing these issues. It is not necessary to bench press your own body weight to reap the benefits of weight training. Start small with simple bodyweight exercises, such as stair climbing, wall pushups, chair squats, and single leg stands.
Medical Alerts for Seniors with Optimal Health in Mind
Finding an exercise program you enjoy can go a long way toward improving your mental and physical health, and your quality of life. The right medical alerts for seniors can bring peace of mind and emergency medical assistance right away in case of a serious fall, heart attack, stroke, or other health crisis. See our medical alert comparison for concise information about various medical alerts for seniors, including cost, equipment, and features.