BLOG /
Medical Alert Systems
Devices for Elderly
With people living longer lives, technology and innovation have to keep up to make sure that our growing gray population continues to live full and rich lives. As a result there are a multitude of devices for elderly people. Here are just a few.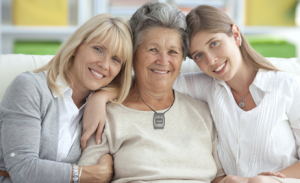 You would not think that sleep safety would be an issue, but it is for the elderly. Good thing intelligent people are working on the problem. For example, they have come up with a bed cane, which is a sturdy, steel device with a base that slips between the mattress and box spring to help people get in and out of bed.
Seniors also sometimes have issues with falling out of bed, which can lead to very serious injuries. There is now a safety bed rail that will prevent a senior from falling. It also will help them getting in and out of bed.
Other devices for elderly people involve the bathroom, which is always a dangerous place for seniors. A toilet rail is a strong bar that is mounted to the wall next to the toilet that helps seniors sit down and get up.
There are also several types of shower chairs offering better and more support. This is very important because so many seniors slip in the shower. The results are often tragic.
Of course, devices for elderly people that we like the best are medical alert systems. While these other devices help prevent falls and injuries, a medical alert system springs into action in the event of a fall or a medical emergency.
You can make your house as safe as possible, but it is likely that one day you will have to call for help. And the best and easiest way is with an alert system. Just press a button and help will be on the way. It is the only device for elderly people that will do that.