BLOG /
Medical Alert Systems
Seniors: Turn Off That TV!
By Paul Gamber |
2821
Views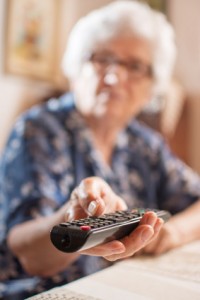 If you are 65 years or older and thinking all you've got left is to wait out your days in front of the TV, think again. There has never been a better time for seniors to take advantage of modern technology that enables them to live more active lives well into their golden years. And there is plenty of evidence supporting that the more active you are into your elder years, the healthier you will be.
Even though you may not be as physically adept as you were when younger, with simple modifications, you can start or continue to stay active right into your golden years. One of those modifications is simply having a medical emergency system.
How Does a Medical Emergency System Work?
It starts with a small base unit installed in the home. It connects you to a 24-hour, 7-days-a-week response team via your landline or your cellular service if you have an emergency. You wear a simple pendant on a necklace or bracelet that has an emergency call button. If you have an emergency, you just press the button and are immediately connected to a live operator via speakers and microphones. The operator can then summon an ambulance and EMTs and/or contact a relative or friend if needed.
For an active senior, it means having a safety net with you all the time. If you have been holding back on being more active because you're worried about possible medical problems, you can now rest much easier. When you know you can connect immediately with trained responders from wherever you are, you will be more likely to be more active. Of course, you should consult your doctor first to be sure you can perform appropriate activities.
Be More Active with Peace of Mind
Find out more about the various features available on different medical emergency systems. Some have short ranges; others have wider ranges for when you are out and about. There are systems with GPS capabilities. There are also fall detection systems that don't require an emergency button to be pushed to summon help. Your future keeps getting brighter!