BLOG /
Medical Alert Systems
Worried About Falls? Let's Talk Technology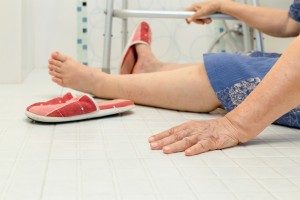 Falls are a legitimate concern for senior citizens. According to the National Council on Aging, they are the leading cause of fatal and non-fatal injuries for older people in the U.S. However, suffering a fall is not an inevitable occurrence. Practical lifestyle adjustments and fall prevention programs can help reduce the risk. When a fall does occur, modern technology can go a long way toward improving the outcome.
Falls and Home Medical Alert Systems
After a fall, it is critical to get immediate medical attention. Even if you don't believe you have broken any bones, you may have suffered injuries that are undetectable but very dangerous. In cases in which a fall causes injuries such as a broken hip or other fracture, you may not be able to get up and call for help.
This is when home medical alert systems are essential. They provide seniors with the perfect way to summon help in an emergency, such as a fall. With the touch of a button on a medical alert pendant or bracelet, you can connect with an operator immediately to get help on the way.
With advanced technology, some medical alert systems offer an automatic fall detection feature. Advanced motion sensors detect the fall and automatically alert an operation, even if you were rendered unconscious or unable to reach the button as a result of your injuries. The operator is able to pinpoint your location and send emergency medical assistance immediately.
How Does Automatic Fall Detection Work?
Automatic fall detection is built into a medical alert pendant that you can wear around the clock. Most medical alert pendants are waterproof so you can wear them in the tub or shower where many slip and fall accidents can occur.
Accelerometers and processors (sensors) detect and differentiate between a fall and normal activity. They sense how fast, smoothly, or abruptly they are moving and what position they are in. When the sensors detect a fall, the monitoring service is notified and help is sent to your location.
Fall detection can provide greater peace of mind, but not all home medical alert systems offer an automatic fall detection feature. See our medical alert comparison to find companies that offer this option.