BLOG /
Medical Alert Systems
Medical Alert Watches For Seniors
By Mark Berman |
35413
Views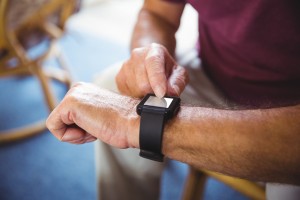 One of the best new inventions for personal emergency alert systems in the last five years has been medical alert watches.  Before the medical alert watch system, there were different types of alert devices that you could wear around you wrist your neck such as a necklace, bracelet, button, or pendant. However, the medical alert watch has exceeded all expectations and it provides seniors and elderly to wear the wear without the feeling that older bulky buttons and pendants used to give. The watch provides an opportunity to look sleek and cool, and also have 24/7 protection and safety anywhere you go.
For example, take the Freedom Guardian medical alert watch from Medical Guardian. This watch has a nice touchscreen, is simple and doesn't weigh much at all. It also allows for your loved ones, family members, children, or friends to keep track of you which is a great feature. Stacked with Global Positioning and GPS, it's helps provide piece of mind that emergency responders can get right where you are in the event of an emergency. Older systems had more trouble pinpointing the location of the event, which could be a fall or medical emergency such as a heart attack and stroke. A recent upgrade provides the watch with text and speech message abilities to help them respond easier for care in and away from their home.
One of the most important items seniors tend to forget is when to take medications or when there are doctors that need to be seen on a certain day. The watch is the simplest way to managing all the stress that comes with aging and make things a little easier. As we get older, it's gets easier to forget little things especially if we have certain genes such as the APOE4 that lead more to a tendency of Alzheimers or dementia. It's good to have tools to help keep your mind sharp and focused.
Also if you plan on going for a hike or a walk around the neighborhood, it's great to wear the watch and check it for the local weather to know if you're going to get caught in the rain or clouds and improve your experience on the hike.
The watch runs on battery like an iPhone so it can charged at anytime and you can view your battery level at anytime so you know when it needs to be charged up.
On an alert watch, it's one of the most simple medical alert systems on the market. All you have to do is hold the side button for 3 seconds and you will immediately contact help and health responders.  How cool is that?
For those looking for more style, you can pick a different color watch band and these watches are very stylish and nice to wear when with friends.  Out of all the options on the market, getting a watch for yourself or a loved one is a smart idea in a time when all of our health is in a state of uncertainty.