BLOG /
Medical Alert Systems
More People Getting Medical Alert Systems
By Mark Berman |
5047
Views
If you are among many of your friends who has a medical alert system or is thinking about getting one, you are not alone. The medical alert business is growing by leaps and bounds.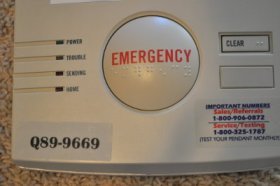 An analysis by the research firm IndustryArc predicts that the sector will grow at a compound annual growth rate of 6.3%, and reach $21.6 billion by 2020 worldwide. That is a lot of medical alert systems.
The report says there is a rise in demand for home health care devices. One reason is that hospital costs are becoming prohibitive, so people are choosing to be treated at home.
Also, with people living longer, children have the added burden of caring for their aging parents. A medical alert system gives both children and their parents peace of mind that someone is watching over them.
The retired population also has far more disposable income than in generations past; it can easily afford the price for a medical alert system with all the bells and whistles, as well as the monthly monitoring fees.
According to the United Nations, the global population over the age of 65 was 566.4 million in 2013. That is expected to grow to more than two billion by 2050.  So the medical alert industry can likely see robust growth over the decades to come.
Japan in particular will see an explosion of retirees. Right now people 65 or older make up 23% of the entire population. That number is expected to be 40% by 2050.
Currently Asia trails the rest of the world in medical alert system purchases. It saw 18% of the global sales in 2014. Compare that to the 40% market share in  North America and 37% in Europe. The Asian figures are sure to rise in the coming years.
With such a demand, the quality of medical alert systems, which is already top-notch, will only get better. Innovation will also improve, leading to the best medical alert systems money can buy.