BLOG /
Medical Alert Systems
Automatic Fall Detection for Seniors on the Go
By Paul Gamber |
4634
Views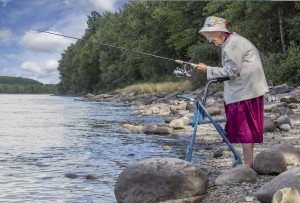 The Centers for Disease Control and Prevention (CDC) issued a press release with facts revealing that falls are leading cause of death and injury for older adults in the U.S. According to CDC statistics, in a recent year, 29 million people experienced falls, causing 7 million injuries, at $31 billion in Medicare costs.
The Director of CDC is quoted in the press release as saying that falls among older adults are on the rise, and that a fall often heralds loss of independence for a senior citizen. The number of fall-related injuries and deaths among older people is expected to rise, with 10,000 Baby Boomers turning 65 every day in the U.S.
When a fall occurs, prompt medical attention can make a significant difference in the outcome. Baby Boomers are taking a more active approach to retirement and tend to be out and about. Old medical alert systems were landline based and tied to the home. Fortunately, advanced technology now makes mobile fall alert systems with GPS available for seniors with an active lifestyle.
How Do Mobile Fall Alert Systems with GPS Work?
Traditional medical alert systems were attached to a landline and only effective within the home, and these are still available. Advanced cellular-based systems are now available with automatic fall detection and GPS tracking.
Modern mobile systems are cellular-based so they can travel with you wherever you go. GPS tracking allows the operator to pinpoint your location, even if you are unsure exactly where you are, or unable to answer questions.
In most cases, with a medical alert system, you need only press a button on a medical alert pendant or bracelet to get help on the way immediately. However, after a fall with serious injuries, you may be unconscious or unable to move or speak.
Automatic fall detection is a special sensor on a medical alert pendant that alerts the operator when a fall occurs without the need to push a button. Using automatic fall alert systems with GPS, the operator can spot your location and send emergency medical assistance directly to you after a fall, even if you are unable to respond, push a button, or ask for help.
Protecting Yourself from Fall Injuries
According to CDC, every year, one in every four Americans ages 65 and older suffers a fall, and one out every five falls causes serious injuries. That doesn't mean that falling is inevitable. Seniors can take precautions to significantly reduce the risk.
In case a fall does occur, mobile fall alert systems with GPS can help protect active seniors. Check out our medical alert comparison for help finding a mobile system with automatic fall detection, GPS tracking, and the features you need.