BLOG /
Medical Alert Systems
Medical Guardian Medical Alert Update
We have long been impressed with Medical Guardian. Its products and services rank among the best in the medical alert industry. But since we first completed the Medical Guardian Review of their medical alert system, it has added exciting new technologies that impress us even more.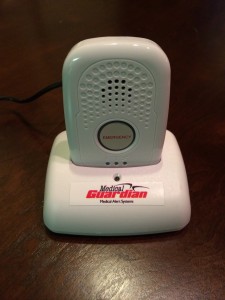 Medical Guardian has become the latest company to offer fall detection. Sensors built into the alert pendant can detect falls. It automatically sends a signal to the base unit, which calls the monitoring center. If the fall has left you incapacitated and unable to respond, the monitor will send help to your home immediately. Such a  system can save your life because the longer you go without receiving help after a fall, the more likely it is that you will never recover from your injuries.
The Medical Guardian medical alert system now comes with an optional base unit that has cellular service. This means you no longer need a traditional phone line to obtain a medical alert system. The cost of this option is far less than the monthly bill from the telephone company.
But the newest offering we like the most is the mobile medical alert system. This is a device that you take with you wherever you go, so you will always be protected.
The unit, about the size of a deck of cards, is packed with GPS and cellular technologies. In the event of an emergency, you press your alert button and speak with the monitor through the mobile unit. If help is needed, the GPS will tell the monitor exactly where you are and where to send help. When you are home, the device sits in a charger and acts as your base unit (above).
The Medical Guardian medical alert system is at the cutting edge of technology. It should definitely be among the ones you consider when you are shopping for your alert system.