BLOG /
Medical Alert Systems
RV Living: Seniors Seeing the USA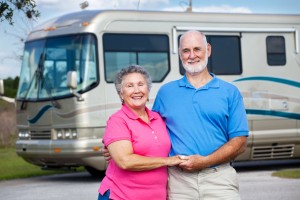 As better medical care and technology allow people to live longer, fuller lives even after retirement, the classic image of the retired couple passing the days sitting on their front porch watching the world go by is dated. More and more older adults are viewing their retirement years not as the end of a productive life, but rather as a chance to try something new and exciting outside the constraints of a 40-hour work week. Exciting technological advancements such as medical alert buttons make it possible for seniors to stay active and independent longer, while ensuring that help is available if needed.
Using retirement as an opportunity to travel is nothing new, but some seniors today are taking it to the next level by taking to the roads in RVs to see the country. Some may use their RVs for a couple of week-long trips a year, while others may spend a few months at a time on the road. Still others, called "full-timers," say goodbye to their traditional homes altogether and live in the RV 365 days a year.
The Perks of RV Life
One draw of the RV lifestyle for many is its affordability – sure, an RV can be an expensive purchase, but when you consider not having to pay property taxes and other costs associated with homeownership, the savings can be significant. And while high gas prices may make the actual traveling part somewhat costly, many RV dwellers choose to park in one area for weeks or even months at a time, enjoying what the space has to offer.
Especially for retirees who may have traveled previously for their job, but never had a chance to slow down and enjoy the places they visit, the RV experience can be the perfect way to experience America, up close and personal. Many RV retirees make a point of visiting national parks and other landmarks.
Stay Connected with Medical Alert Buttons
Many seniors living in RVs value the sense of community that springs up in the camps where people park their RVs and stay for days or weeks at a time. In a sense, these travelers form their own temporary, mobile neighborhoods that look out for each other and enjoy exchanging tales of their adventures.
Sometimes, however, whether parked in an isolated corner of a national park or gone on a day-long fishing trip, even the most well-connected RV senior is bound to be alone from time to time. Medical alert buttons, when properly maintained and operated, grant peace of mind by ensuring that help can always be reached by the press of a wearable button, even when no one is within earshot and you don't have access to a telephone. Check out our reviews page to learn about different medical alert options and how they could complement your lifestyle.