BLOG /
Medical Alert Systems
Sports-Obsessed Seniors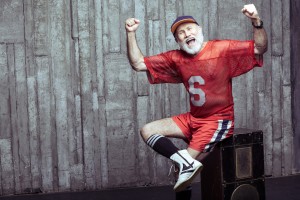 Baseball and football are the most popular sports in America, and following your favorite players and teams makes life more interesting and enjoyable. Whether you enjoy watching Monday night football or have a long-standing tee-time, many retirees spend much of their time playing, watching, and participating in sports. With sports often being a life-long obsession, the freedom of retirement enables many seniors to dive headfirst into the passion. Sports and physical activity are critical to your health. Even for seniors who can no longer physically participate in a vigorous game, a devotion to sports can pack a ton of benefits.
Benefits to Participating in Sports
The physical benefits of regular exercise are universal. As we age, remaining physically active is key to maintaining independence. For sports fans, mobility issues and health concerns can keep you sidelined. Rather than sacrificing a passionate interest in your team or player, alert systems for seniors make it possible to continue to attend your favorite sporting events.
Sports are a great way for active seniors to have fun and get exercise, but they provide additional advantages. From tennis to golf, seniors who actively participate in a hobby or skill are happier, healthier, and more engaged. Cognition, social engagement, and mental well-being are positive side effects of an active obsession with sports, whether as a participant or a fan.
There is overwhelming research that overall health is tied to the active use of cognitive functions. In other words, seniors who read sports news, listen to commentary, and have discussions about their favorite athletes or teams are triggering important parts of the brain. This mental exercise does more than keep the brain working hard. It can be helpful in warding off memory loss. If you have a family member who is obsessed with sports, it is a good thing. If he or she is still able to participate, even better. While sitting on the couch or in a favorite chair watching TV doesn't provide the physical workout that is so important for the elderly, it does support mental engagement, focus, and tracking the plays and moves – all good for the brain.
There are many social benefits in an obsession with football or other popular sports. Fantasy leagues are a great way to interact with other sports fans and establish new friendships. It often provides retirees an incentive to get out more often. Tough trade negotiations are always more effective in person!
Alert Systems for Seniors
Many seniors are fearful about falling or have fears about other medical issues. These fears can make them less willing to leave the home to attend a sporting event or other activity – an unhealthy situation.  Alert systems for seniors are a great way to keep "super fans" participating in baseball leagues, sitting in stadiums seats, or working in volunteer coaching positions. With GPS tracking, you can be confident that in any health emergency, no matter where you are, help will be on its way. Our reviews page has more information about the different services and equipment options available.